General Topics:
| Sydney Cotton | Charles Lindbergh |
| Flying Boats | During the War | Crashes |
Sydney Cotton
(back to top)
Aviation in Botwood began in 1919 and ended in 1945. Major Sydney Cotton and Captain Sydney Bennett established the first facilities for aircrafts at Botwood during 1921-1922 as headquarters for Cotton's Aerial Survey (Newfoundland) Company (Decks Awash, 1981). He constructed hangars for his planes, a deHavilland 9, a Rolls Royce powered Martynsyde and a Westland Napier. The planes were equipped with skis made locally by Nathanial Hart for winter use on the frozen Exploits River and Bay. In other seasons the planes were equipped with pontoons. Cotton chose Botwood because it was sheltered and easily accessible, suitable for both summer and winter. Few people in Botwood had ever seen an airplane and crowds came out to see the spectacle.

On February 26, 1921 Cotton flew from St. John's to St. Anthony, landing on ice at Botwood harbour to refuel his aircraft. This plane carried the first air mail to the seal hunt and the Fogo area. The Fogo mail was subsequently delivered on a flight from Botwood on March 28, 1921. The plane returned with one of the first passengers to travel by air in Newfoundland (Decks Awash, 1981).
Near the end of November 1921 an attempt was made by Sydney Cotton to fly mail collected at Botwood to Halifax. The bay was still ice free, but during some delay caused by trouble with floats, the bay froze over. A storm arose and built up a huge barrier of ice blocks between the shore and the hangar. It took eight days to remove the ice. Finally, on December 20 he started out but engine trouble brought him down 100 miles away near Deer Lake. When he started up the next morning Cotton was struck by the propeller and hospitalized. Captain Sydney Bennett attempted to fly the plane back to Botwood but made a forced landing and crashed near Grand Falls.

On December 10, 1921 Cotton and Bennett made the first air mail run from Botwood to Nova Scotia.





First airmail service, 1921.

Mr. Joseph R. Smallwood, [Newfoundland's first premier] took his first airplane flight with Major Cotton. Mr. Smallwood flew over St. John's on January 22, 1922 along with Albert B. Perlin and a reporter named Walsh of the Daily News of St. John's (1967, Smallwood).

Cotton was the first to spot seals from an aircraft and by 1923 had a small air fleet operation from the base in Botwood. "The community of Botwood was the first in Newfoundland (and probably the first in the world) to receive seal flippers via aircraft" (Morris, 1976).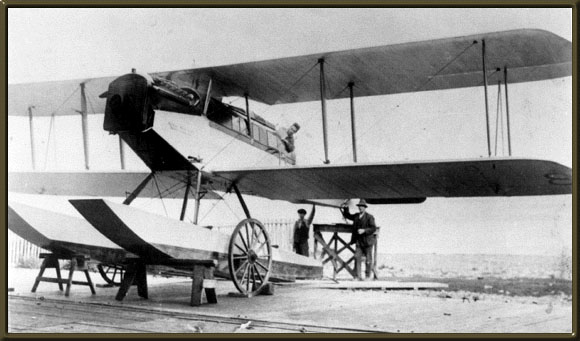 First sealing operations, plane being fitted with skis.

On one seal spotting flight out of Botwood, flying solo and without a wireless set, Cotton got a scare when the Martynsyde developed engine trouble 200 miles from land:

I suddenly realized what an absolute fool I had been. I'd been taking this sot of risk for three years and so far I had been lucky, but now the prospect of freezing to death on the .ce-floes stared me in the face. Why had I done it? All the time, as I coaxed the engine along and it gave more and more trouble, I was thinking these miserable thoughts. The scaling people had still not grasped the importance of aerial sealspotting and perhaps they never would. If the A,,ro proved successful they would cut me out and run it themselves. Even the air mail contracts, it seemed, were stifled by politics and threatened by corruption. There and then, as the engine missed and spluttered, I made a vow that if I ever got back to B,)two,)d I would give up seal-sp,)tting, and that if I couldn't get a promise of constructive support from the government I would leave Newfoundland (Candow, 1987).

Crash of Cotton's plane in Botwood harbour, 1920-21.

The company owned by Cotton encountered many setbacks due to poor winters and aircraft malfunctions. In 1923 the company was awarded a contract to survey the gold potential of the Labrador coast. This was not enough to keep the company financially sound and the last air mail flight was made from Botwood on May 16, 1923. Cotton remained at Botwood for less than three years. He liquidated the Aerial Survey Company when the government failed to give him the support he sought and his facilities fell into disuse. By August 1923 he was in New York with $25,000 cash and looking for a new challenge. "The Intrepid Birdman" died at England in February of 1969 at the age of 75 (Morris, 1992).

Charles Lindbergh (back to top)

Charles Lindbergh was a technical advisor to Pan American Airways (Pan Am) and was the first man to fly the ocean solo. He flew from New York to Paris in 1927. Pan Am was studying the possibility offlying mail and passengers over the ocean. Many things were taken into consideration in this study, including landing base sites for use in future air routes. Weather conditions were studied and records made. A fully equipped supply ship, the S.S. Juling, moved closely with the flyers. This was a needed precaution and aided in making a satisfactory outcome of the flight, especially in the northern areas (Belliveau, 1982).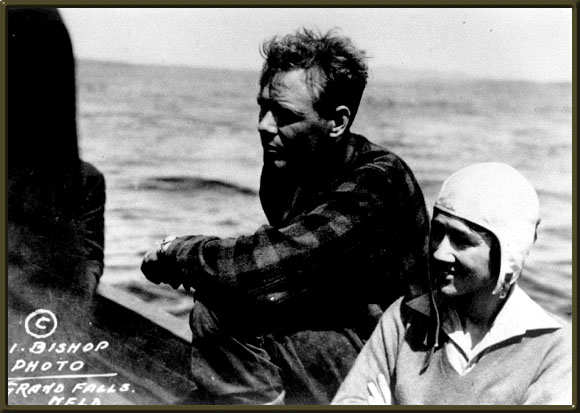 Charles and Anne Lindbergh at Botwood in 1933.

In 1933 Lindbergh and his wife Anne made a non-stop flight across the Atlantic and landed at Botwood. They flew a two-seater Lockheed "Sirius" low-winged monoplane, fitted with floats. They arrived in Botwood 12:30 pm on July 14, 1933 and left for Cartwright, Labrador 3:30 pm the same day, after taking on four drums of aviation fuel. No one who came to see the seaplane land in the harbour suspected that one day Botwood would have a regular transatlantic flying boat service.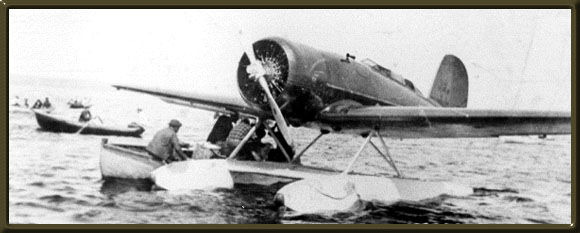 Lindbergh's plane in Botwood harbour.
Flying Boats
(back to top)
Due to its spacious deep-water inlet of Notre Dame Bay, Botwood afforded ample space for the maneuvering of planes taking off or landing. It had all the facilities for a seaplane base. Because of its fine sheltered harbour and the fog free zone in which it lies, Botwood was selected by Pan American Airways and British Imperial Airways as their base on this side of the Atlantic (Meaney, 1967).






Short Empire Class Flying Boat at Botwood -
First transatlantic experimental commercial flight, July 1937.

The first great aircraft brought the town of Botwood into the 20th century. Throughout the 1930s, two great nations used the town as a base for the world's first regular transatlantic flights.

In 1935 the United States and British Governments chose Botwood as a landing base for their transatlantic flying boats. They reactivated Cotton's hangars, added facilities for refuelling, communications, weather observations and aircraft maintenance. On July 5, 1937 the first transatlantic experimental commercial flight, the Pan American Clipper III landed at Botwood from New York via Shediac, New Brunswick. The next day the Clipper III, a Sikorsky 42 aircraft piloted by Captain Harold Gray, left Botwood for Foynes, Ireland. The same day the Caledoinia, a Short Empire Class flying boat, under the command of Captain A. S. Wilcockson, left Foynes for Botwood. It landed July 6, 1937 at 7:36 am. This marked the beginning of transatlantic commercial flights (Airports and Airstrips, 1981).
On June 24, 1939 the Boeing B-314 Yankee Clipper departed Port Washington, New York enroute to London, England via Shediac, New Brunswick, Botwood, Newfoundland, and Foynes, Ireland. The largest airplane of the day made a scheduled overnight stop at Botwood on June 27, 1939. The Yankee Clipper was a flying hotel. Her owner, Pan Am, fitted her out like a suite at the Ritz. Built to carry 74 passengers and a crew of 8, she had sleeping accommodations for 40, separate dressing rooms for men and women, and a well stocked bar She also had a lounge that doubled as a dining room, and a deluxe cabin in the tail section that converted into a bridal suite. Other elegant touches included a spiral staircase and soundproof compartments. The arrival and departure of this 109 foot flying giant in Botwood signified the end of two long years of test flights and the pioneer days of transatlantic air travel.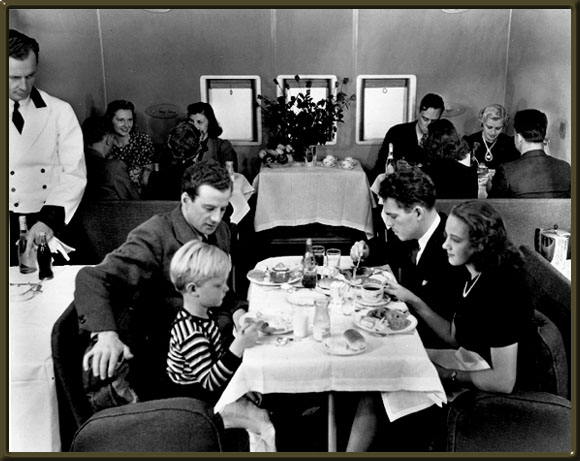 Dining on the Yankee Clipper.

In 1991 Ken Follett, the best-selling British novelist, dramatized this flying boat era in his novel Night Over Water in which he describes a stop-over in Botwood.

During the War (back to top)

At the beginning of World War 11, the only passenger service to and from Europe was provided via Botwood by flying boats. The Royal Canadian Air Force (RCA-F) took over, enlarged, and operated it partially for the benefit of American and British commercial companies maintaining a flying boat service to Britain.

It was outfitted as a Royal Air Force Base accommodating the coastal defence anti-submarine patrol squadron using PBY-5A Canso Amphibians. A large concrete slipway and two hangars (the hangars were taken down in 1948) were constructed at the facility. Also, a Royal Air Force Squadron was stationed at Botwood in June of 1940. On April 3, 1941 an agreement was made to transfer the control of the airbase at Botwood to the Government of Canada (M.H.M. Mackinnen, 1946).
In 1943, by agreement between Canada and Newfoundland, Canada handed over some of the Anti Aircraft Battery buildings to provide accommodations and a restaurant for passengers and crews on the transatlantic service. The buildings were operated by British Overseas Airways Corporation (BOAC) and became known as Caledonia Camp, named for the Imperial Airways flying boat that made the first experimental crossing of the Atlantic in 1937. BOAC accepted the buildings as they were and the Department of National Defence charged no rent. The camp was jointly financed by the United Kingdom and Newfoundland.

Daily, the giant airliners of the BOAC, Pan-American and Export Airlines circled the calm waters of Botwood harbour. Their passengers disembarked at the pier sacred to the RCAF during the years when its dawn patrol was writing history and helping win the Battle of the Atlantic. Airliner passengers were driven to rest 'In luxurv at Caledonia Camp during the one and a half hour stop while their plane was being refuelled. At Caledonia Camp, the Caribou Club complete with bar, and up-to-datc,,cstaurant and other facilities, helped passengers pass the time in comfort and pleasure (Blackmore, 1946).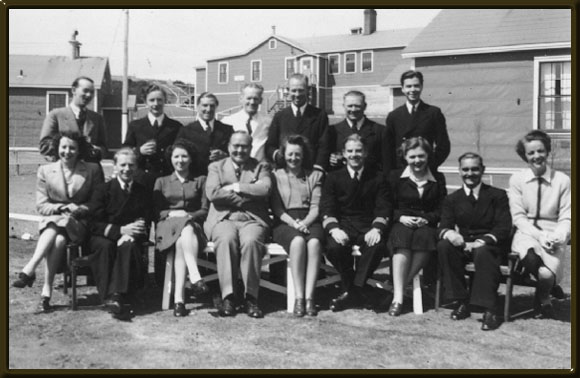 BOAC ground staff, Botwood, 1945.

Franklin Delano Roosevelt and Winston Churchill rested in the little "blue and white cabin on the hill" which was reserved for mighty personages. The great leaders of the land, sea, and air offensive, as well as the great financiers and jugglers of power passed through here at some time or other during the war years.
The Transatlantic Inn also provided meals and lodging for passengers travelling on Pan Am, BOAC, and American Export Airlines. It was a 24-room hotel operated by Essie Cobb during the 1930s and '40s. It was conveniently located on Church Road near the Airbase.

On June 4, 1943 representatives of the American Export Airlines Company presented Mrs. Cobb with a watch and a letter of appreciation for the friendly aid and comfort she gave to the survivors of the Flying Ace crash. A dinner was also held in her honour.

Ernie Lund, Senior Flying Control Officer (Operations Officer) was stationed in Botwood in 1944. He was charged with the responsibility of all aircraft landing and taking off from Botwood, including civilian and military aircraft. The 116 Squadron was the controlling agent for the movement. Mr. Lund's job was to make sure that things ran smoothly and to see that there was no conflict between military and civil operations. Besides him, there were a half dozen officers and 15-20 airmen in charge of the control tower, the crash boat, and the general operation. Mr. Lund was also responsible for the landing paths map for aircraft [on display at the Botwood Heritage Center.]

Mr. Lund stated that the base was very active. At first, with daylight flying only, and then the U.S. Naval Air Force Service was flying Coronados (big multi-engine flying boats) through day and night. Operations were changed to a very heavy night schedule and crews were on duty 24 hours a day.

When asked what he thought of Botwood today, Mr. Lund replied:

I went down to the base, saw Killick Island, and all that's left now Is the path and the slipway. A little saddened because here was a bay that was so full of life and people, airplanes and happenings, everything going and coming, but it brought back a lot of memories. And I'd say all of them good! (Heath, 1991)
Frank Howell of the 102 Eastern Air Command Marine Squadron was also stationed in Botwood in 1944. When he first landed he was very impressed by the activity of flying aircraft. One of his duties was to lay out flare paths for the planes coming in from their reconnaissance over the ocean. In reminiscing he states:

You know it was a great thrill to watch the aircraft take off, and they depended on the Airbase Marine Squadron to get them back in. It was always a joy to get them back in. But I am disappointed that they didn't preserve at least one building on the tarmac, one hangar or something (Heath, 1991).
Crashes
(back to top)
There were at least two flying boat crashes in the Botwood harbour. One took place on Saturday, October 3, 1942. The Flying Ace, a 27 ton American Export flyingboat with 26 passengers and a crew of I 1, was taking off to fly to another airport in Newfoundland with a partial load of fuel. At 7 pm the plane taxied into the stream, followed by an Air Force crash boat. The plane suddenly went into a bouncing action known in aviation circles as a "porpoise take-off." It went about 30 feet in the air and suddenly crashed in the water. It is believed that the back of the plane was broken.
Eleven persons were killed and four were missing; the bodies of the latter are believed to still be in the sunken plane. Seven bodies were recovered from the plane. Five passengers and three of the crew were taken to hospital; some badly injured. Mr. W. T. Myers died while he was being taken to shore; Mr. Dwight Thomas died in the hospital shortly after arrival; Colonel Bradley died in hospital on Sunday night; and Mr. L. Galantier, a New York banker, had to stay in hospital. The hostess of the flying boat and another female passenger were saved.
Mr. Thomas Power of Grand Falls, an experienced diver, was called to Botwood that night. Mr. Power succeeded in getting out four of the bodies of trapped passengers. The sunken plane was raised for a short period, but later it sank back out of sight in about seven fathoms of water after attempts to tow it to shore failed. Officials of the airlines arrived to conduct an investigation.
Garland Peyton of Botwood was working on the base during the war. He remembers seeing the incident while standing near his home. He recalls that the plane appeared to have hit an air pocket and to stall in mid-air.

It was high enough up that you could see the shadow on the water, and when it came down it made a spray. The back flow of water from the wave that was created must have caught the blades of the propellers and it made a loud roar. The tail of the plane broke off and stayed above water as the rest of the aircraft became submersed (Inder, 1988).
Peyton also reported that an effort was made to tow the plane over to a ramp by the boathouse, but as the insulation in the plane got soaked, it became very heavy and the aircraft sank out of sight.

A former resident of Botwood, Levi Skinner, was in charge of planes landing on and taking off from the harbour. He didn't see the crash take place but he authorized men to recover survivors and bodies from the crash.

I shot the boat up alongside the aircraft near the tail section that was afloat. I could see a man's hand sticking out about three feet under water so I reached down and got hold of his hand and squeezed it to see if there was any life in it. There was no sign of life. I pulled on the hand to try and get the body aboard the boat, but the body was stuck in the fold of the plane where it had cracked off. I realized that if I just left the dead body there it would probably be swept away by the current, so I tied a piece of rope around the wrist and secured it to the plane's fuselage (Inder, 1988).
About two or three weeks later, a Canadian navy ship attempted to raise the plane out of the water with a crane. Skinner said that as the tail section was raised, the body of the man he had tied on was swinging in the air by his wrist.

When Skinner first tried to get the corpse out of the wreckage, he said a United States Army ring slid off the dead man's finger into his hand. "I just slipped it into my pocket at the time because I figured that if I gave it to someone else, it would never be seen again" (Inder, 1988). A name engraved on the back of it was that of a Colonel Whitaker.

About three years later Skinner was sent to New York to work with Imperial Oil. While there, he contacted American Export Airlines Limited and got the address of the family of the man who was killed and whose ring he had. It was eventually returned to the family and a letter of appreciation was sent to Skinner from Whitaker's relatives.

Another flying boat crash which took place in Botwood occurred on Monday evening, November 8, 1943.

"The accident occurred while the aircraft was attempting to land on a lake at a Newfoundland airbase. Seven members of the RCAF and RAF, including a Wing Commander and officer of the Women's Division were missing, believed killed after a twin-engine flying boat in the Newfoundland Eastern Air Command crashed" (Daily News, 1943).
Five others aboard the plane were slightly injured in the crash. Bad weather and poor visibility were blamed for the incident.

Miss Margaret Chisholm was stationed in Botwood for six months in 1943. She was working as a military nurse on the night the RCAF Canso plane crashed in Botwood harbour. She remembers it was a dark night when the plane crashed around 8:30 pm. She was working night shift when the five survivors were admitted to the Botwood Hospital.

The names I remember are: "Swampy" Marsh, Leading Air Craftsman; Jim Dolgleish, Pilot Officer; and Bill Cairns, Pilot Officer. Other Lieutenant nursing sisters were Nora Kenny (Matron), Jesse B. Smith, Ruth Macleod, Lettie Turner, and Margaret Briggs. The Commanding Officer at the hospital at the time was Colonel Edward Bird and two of the doctors were Dr. Kirkpatrick and Dr. Ramsey (Gill, 1989).
Miss Chisholm said the passengers were all military V.I.P.'s on their way from Labrador. Mr. John Dyment, Leading Air Craftsman with B group, 102 Marine Squadron, was there that night too.

When I got out to the crash, just beyond Killick Island and to the right of it, they had a line. This was the duty boat and the control officer, they were all aboard and they were towing the aircraft and what happened was the aircraft had come down. Instead of landing nice and flat and smooth she was over on her side to the left and she dug in the port pontoon. She spun around and that's why she went in. I guess it must have torn the wing off. I never saw that but when we got out there, all you could see was about 15 or 20 feet of the starboard wing straight up in the air. We were going over to help, just going slow when the control officer that was on the crash boat took the axe and cut her adrift without even thinking to tie a moor, tie a bower, a donut or a life preserver, something onto that thing. Then we could have found where it was but he just cut her adrift. He was scared, I guess, that the depth charges were going to explode because they have to fuse them first' They throw a master switch before the things that were released were exposed, so they're dead until you do that, but he got scared thinking they might blow up. But anyway that didn't happen (Rowsell, 1991).
Botwood was used by commercial flying boats on the North Atlantic air service from 1937 to 1945. After 1939 the flying boats were crowded out by land-based planes. Botwood's importance as a major refuelling base for North Atlantic air traffic was short-lived as modern technology developed newer and faster aircrafts. It has almost been forgotten that this thriving port once heard the drone of flying boats and the roar of fighter planes, but those who do remember are testimony to Botwood's brief glimpse of airborne gamour.




---
---
Please let us know your comments and email us: botwood@nf.sympatico.ca

Page designed and Maintained by Simply I.T. & Pablo Gosse